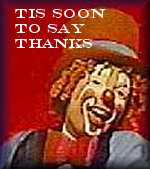 Through Thick and Through Thin

Life is Up, Life Is Down.

This Message Comes

From The Heart of A Clown.

The Friends That I've Made

Make This Time Most Worthwhile.

When I Think Of Our Friendship

Well, It Just Makes Me Smile!

Thanks For The Times

That You've Shown That You Cared.

Thanks For The Fun

For The Laughter We've Shared.

To Internet Friendships

May They Never End

My World's So Much Brighter

Because You're My Friend

Please Accept This Gift

My Very First Ever

Nancy



I Would Be Honored

If You Would Accept My Charm.

From The Heart Of A Clown

Offered In The Spirit Of Internet Friendship

Nancy