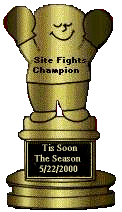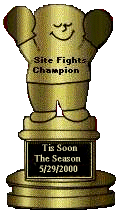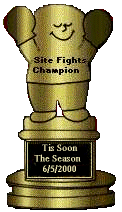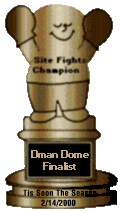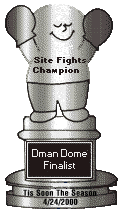 Clueless In Ohio

I tried my hand at web page building one day in November of 1999.  I had no idea of what I was doing.  I just .... started!  My first pages were all Christmas Holiday related and loaded like molasses.   I didn't even know what html meant, let alone how to use it.   One day I was looking at my sparse guest book signings and a kind soul who signed invited me to check out her site where I found a banner which led to The Site Fights.



In Training

The First Round DCavilier's Courtyard is just a qualifying round.  You only need a few votes a day to win one of the little guys below.  I only needed 3 of those little guys to move up to the next round.  My first week I got a little DJester Guy Everyday!


Still Clueless

Still clueless, but enthusiastic as I could be, I signed my site up with one of the Site Fight Teams, DJesters Royale.  My compeition would start on January 10th. 1999 in the qualifying round in DCavalier's Courtyard.   I almost backed out and wrote my team leader, DHarlequin, who was encouraging and very suppportive.  I thought, what the heck, if everyone is this nice, I might as well give it a try.  The worst that could happen is that I'd look like a fool.  Well, so what, I joined up with the right team.  DJesters are supposed to be Fools!


Back To The Drawing Board *lol lol*


Party Time!

DJesters Second Round is Called DParty.  I did pretty well there.  I got enough votes to stay another week.  I was having fun and had met some pretty nice friends by this time.  I got the little gift below for just being there!  I liked The Party and stayed for two weeks. *G*


Having a Ball!

DJesters Third Round is Called DHarlequin's Ball.  Surprise! Surprise!  I was the queen of DBall!

Winning This Meant I was Going To War!  The Ball is the last competition in the team rounds.  Now I'd be competing with all the other teams in The Site Fights.


Week of 1/17/00

Week of 1/24/00


Whooohooo War It Is!  I'm Ready!

I was ready.  I had come a long way baby!  Marched right into the Warzone and Fought Like a Trouper On Another Side.  I Won!  I Won!  Perfect Scores All Week.  Man Am I Good Or What!

I was "goin' to Dman's Dome!  The Big Times!  I Was READY!!!!

Not Quite Ready lol

My first time in the dome.  How exciting.  I couldn't wait to see my first day's score!  Whoa, must be some mistake.  I've got almost the lowest score here.  What's up With That?  Well, needless to say, I got my butt kicked as a DJester Royale - Royally.  I finished second to dead last.   But they sent me the great little charm gift below and I got the Bronze Dome Statue.


Not An Unusual Result... LOA

I dropped out of the competition for a while.  I knew I needed to learn a few more things before I tried again.  I needed to work on my pages, but mostly I needed to work on my Spirit!  I was feeling pretty down.  The Dome experience humbled me and made me realize that I needed a new attitude towards competition.  I watched while others, lost a battle but returned to fight, again and again.  They were having fun, and winning wasn't all that it was about.  Making friends, visiting great sites, and learning became my new goals.  Little by little I became less afraid to just be myself.  I decided it was time to jump back in and this time, winning was not going to be the final goal.  If I won a little along the road, that would be just fine, but, my main objective was just to have lots of fun and bring a few smiles to my friendships I found along the way.  I started just having fun!





DCavalier's CourtYard  Week Of 3/27/00



DJester's Party Week of 4/3/00



DHarlequin's Ball Week of 4/10/00


Dome Week of 4/24/00

This Prize Was For Second Place!

Life is Good!

And I'm Still Having Fun



Winning Those Three Little Beauties Above Qualified Tis Soon The Season

For The Site Fighter Of The Year (SFOTY) Competition in February 2001

My name is Nancy and I am the proud Web Master of Tis Soon The Season.

I was so proud to have been involved in this battle of the best of the best.

The Contest Is Over and Although I Didn't Win SFOTY, I did win big with the friends that I made and have kept close.  A heart felt  thank you goes out to each and every supporter and friend and family member who climbed into my corner for this event.   You were terrific!  Another and just as heartfelt thank you goes out to my wonderful Teammates and  The Team Leaders of - The DJesters Royale  And one more thank you to DMan and The Site Fights Organization for allowing me to participate and enjoy such an awesome experience.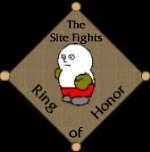 Acceptance Into The Site Fights Ring Of Honor Is A Dream Come True!





Although I am retired from The Site Fights, I am always happy to exchange votes with sites that I believe in.  If you are interested in a vote exchange please visit my VE Page.

If you just want to become a supporter please sign up for one of my reminder lists below.

Best of luck to all who participate in web competitions!

If You'd Like To Read About Little Ol' Me *Blush*

Below Is The Story Of My Failures and Successes *G*