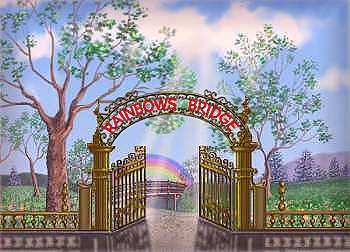 With Deepest Sympathy Over The Loss Of Your Beloved Pet

By the edge of a woods, at the foot of a hill,

Is a lush, green meadow where time stands still.

Where the friends of man and woman do run,

When their time on earth is over and done.

For here, between this world and the next,

Is a place where each beloved creature finds rest.

On this golden land, they wait and they play,

Till the Rainbow Bridge they cross over one day.

No more do they suffer, in pain or in sadness,

For here they are whole, their lives filled with gladness.

Their limbs are restored, their health renewed,

Their bodies have healed, with strength imbued.

They romp through the grass, without even a care,

Until one day they start, and sniff at the air.

All ears prick forward, eyes dart front and back,

Then all of a sudden, one breaks from the pack.

For just at that instant, their eyes have met;

Together again, both person and pet.

So they run to each other, these friends from long past,

The time of their parting is over at last.

The sadness they felt while they were apart,

Has turned into joy once more in each heart.

They embrace with a love that will last forever,

And then, side-by-side, they cross over...together.

                                                                                                  Author Unknown

If it should be that I grow weak,

And pain should keep me from my sleep,

Then you must do what must be done,

For this last battle cannot be won.

You will be sad, I understand.

Don't let your grief then stay your hand.

For this day more than all the rest,

Your love for me must stand the test.

We've had so many happy years .

What is to come can hold no fears.

You'd not want me to suffer so,

The time has come, so let me go.

Take me where my needs they'll tend,

And please stay with me until the end.

Hold me firm and speak to me,

Until my eyes no longer see.

I know in time that you will see

The kindness that you did for me.

Although my tail its last has waved,

From pain and suffering I've been saved.

Please do not grieve - it must be you

Who had this painful thing to do.

We've been so close, we two, these years,

Don't let your heart hold back its tears.

                                                                                                  Author Unknown


We grieve with you because we know how

painful the loss of a beloved pet can be.

Your sorrow touches our heart and we reach out

with this page in hopes of comforting you with our

understanding and friendship.

  May the wonderful memories of the time you

had together sustain you now and always.

Hold those dear memories in your heart

and remember the Rainbow Bridge.



Do you have a friend who has recently experienced the sadness of the loss of a pet.   Why not send this page on to them with the invitation to share their fond memories and love of their pet by adding them to the Memorial Book.

Just click on the link below to do that.


If you would like to honor your pet waiting at the Rainbow Bridge, please enter your memorial in this guest book.  Guest Book Memorial Takes HTML, so you can post a picture or a graphic and provide a link to your pet's webpage. 






If you would like to place a link to this page on your pet memorial page, please feel free to use this banner, and link back to:

http://www.homestead.com/justforlaffs/p2srainbowbridge