This Background Set May Be Used For Your Personal  Web Pages.

If you do take this set, please be sure to use the above logo and link to:

http://www.homestead.com/justforlaffs


The Home Button Takes You Back To the Big Picture Site Map

Please Sign My Guest Book.  All Comments and Suggestions are Greatly Appreciated.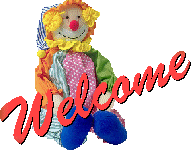 Clown Alphabet Letters From Fun Products - Click Above For Information